| | |
| --- | --- |
| Country of Origin | India |
| Net Quantity | 1.00 count |
| Item Weight | 3 Kg |
| Generic Name ‏ | Decorations |
Product ID : sp/1129
Introducing the captivating and meticulously crafted artifact inspired by the legacy of Chhatrapati Shivaji Maharaj. This stunning piece showcases two significant symbols, 'Shivarai' and 'Hon', meticulously designed in a fusion of metals. The craftsmanship is evident in the intricate detailing of the Devanagari script, with the letters 'Shri Raja Shiv' elegantly displayed on one side, and 'Chhatra Pati' on the other.
Crafted with utmost precision, this artifact is made of high-quality silver with a lustrous 24-carat gold polish, adding a touch of opulence and brilliance. The dimensions of this masterpiece are carefully measured, with a size of 13mm and a width of 2mm, ensuring a delicate yet substantial presence.
Weighing approximately 2.90 grams, each artifact is meticulously inspected to meet the highest standards of quality and authenticity. The attention to detail extends to the bindu-inspired patterns delicately engraved around the script, symbolizing the power and significance of these historical symbols.
The 'Hon' symbol in gold has become increasingly rare, making this artifact a true collector's item. To reintroduce the magnificence of the 'Hon', we have created a replica in pure silver, preserving the essence of its splendor.
This artifact serves as a remarkable tribute to the rich heritage and legacy of Chhatrapati Shivaji Maharaj. It is not just a piece of art but also a powerful embodiment of the ideals of sovereignty and strength. Display it with pride, knowing that you are celebrating and preserving a cherished piece of history.
Note: Each artifact may vary slightly in weight (+/- 0.25gm) due to the meticulous craftsmanship involved.
Customers who bought this item also bought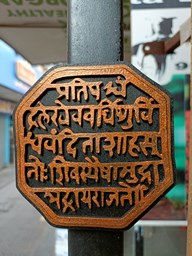 ₹ 399.00
₹ 499.00
(20% OFF)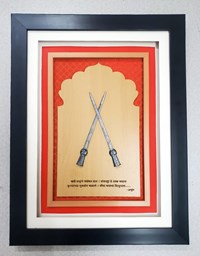 ₹ 6,649.00
₹ 7,500.00
(11% OFF)